David Livermore | 21 Feb 2017
How do we engage in productive dialogue with people who have very different perspectives from our own? The many conversations I've had since the U.S. election have given me some ideas.
Michael Jones | 30 Jan 2017
In a future of intelligent machines, the fastest growing segment of the economy will be the emergence of artist-leaders who build value through experiences that connect people with their hearts.
Christos Tsolkas
Many people know what it's like to have a great idea. But putting an idea into practice is something else entirely, particularly if you already have a serious job in a large corporation. So here's a simple formula for getting yourself or your team to move.
John McLachlan
We all know them. They're the space invaders, the people who waste your time at work, ignore your boundaries and make you feel uncomfortable. But how do you spot one - and how do you deal with them?
Rod Collins
Thanks to the internet, we have experienced more change in the past 16 years than in the previous five decades of the last century. But that's nothing compared to what the second wave of the digital revolution will bring.
more opinion
more
The Connected Manager
10 Feb 2017
You could drive yourself crazy trying to follow every piece of advice you get. And often the experts disagree. So how is a rational, intelligent and diligent human supposed to take all this advice without their craniums imploding?
20 Jan 2017
What holds a wall together is the mortar between the bricks. And what holds a project together is the effective, clear and proactive communication between individuals.
more connected manager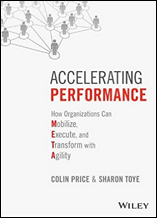 Colin Price and Sharon Toye
Why do companies in the same sector pursuing near-identical strategies perform so differently? 'Accelerating Performance' sets out to find answers based on data and empirical evidence rather than anecdotes and theory.
more books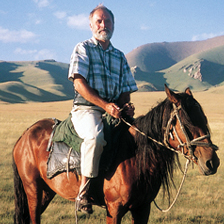 Jean-François Fiorina, Associate-Dean of Grenoble Ecole de Management, talks to Central Asian specialist, writer and explorer, René Cagnat, about the changing geopolitics of a vast region of the globe that is often overlooked.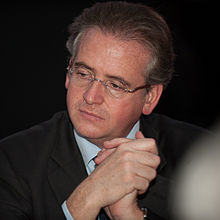 Counterfeiting has become a global epidemic. Pierre Delval, one of the world's leading authorities on counterfeiting, talks to Jean-François Fiorina, Associate-Dean of Grenoble Ecole de Management, about the scale of problem and the measures we need to take to combat it.
The gap between having a vision and inspiring others to help you achieve it is common to every business leader. Dawna Jones talks to Guido Palazzo, professor of business ethics at HEC Lausanne, about how stories can help you communicate your vision
more interviews